This listing has been marked as closed.
Business Description
K Brew is located in Knoxville, Tennessee, and was founded in 2013. This business is working in the following industry: Restaurants.
Founded: 2013
Industry
Restaurants

»

Cafes

;

Bottled water and beverages
Engaged in:
Breakfast and brunch, Restaurants and mobile food service activities, Retail sale of beverages in specialized stores, Cafes
ISIC Codes
4722
,
5610
NAICS Codes
722
Questions & Answers
Q1
Where is K Brew located?
K Brew is located at
800 Market St, Knoxville, TN 37902, United States
.
Q3
Does K Brew have somewhere to park?
Yes
, K Brew has a parking garage available.
Q4
Does K Brew have Wireless Internet (WiFi) service available?
Yes
, K Brew has WiFi available at this location.
Similar Companies Nearby
K Brew
800 Market St, Knoxville, TN 37902, United States
Businesses in Zip Code 37902
Businesses in 37902: 1,641
Population: 1,560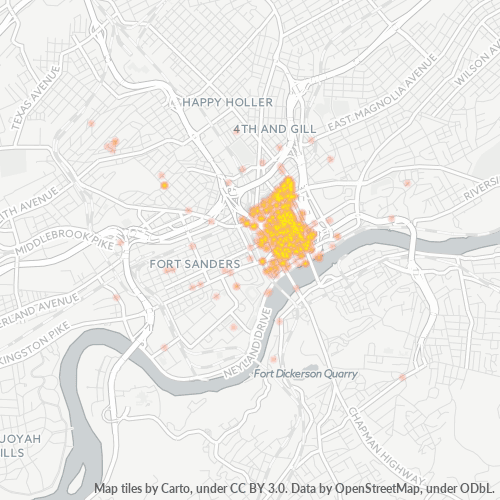 Categories
Professional Services: 35%
Restaurants: 10%
Other: 54%
Price
Moderate: 61%
Inexpensive: 21%
Expensive: 15%
Very Expensive: 3%
Other: 0%
Neighborhoods
Downtown: 89%
Old City: 7%
Other: 4%
Stats and Demographics for Zip Code 37902
Race
White: 81%
Black Or African American: 16%
Hispanic or Latino: 1%
Asian: 1%
American Indian Or Alaskan Native: 1%
Native Hawaiian & Other Pacific Islander: 0%
Other: 0%
Gender
Male: 59%
Female: 41%
Other: 0%